Toy Gun Schematic page for Wild West Toys cap gun pistols. Since we manufacture in the U.S.A. and all our metal toy cap pistols are assembled with screws they can be repaired! So here are some Toy Gun Schematics and assembly videos.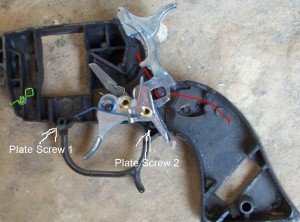 Wild West Toys Bronco 44 cap gun spring schematic . – You will need a phillps screwdriver a small set of needle nose pliers and a flathead screwdriver . The red hammer spring should be placed in first but do not hook it to the hammer yet and do not hook it to the pin at the butt end yet ! Place hammer over the hammer spring support top of hammer with somthing to hold it in place . Now place trigger assemebly in . Make sure cap pusher is facing upward . Insert blue trigger spring into hole in cap pusher , hook other end of blue trigger spring over metal pin . Now you are ready to replace the cover plates . With flip plate in closed position place cover name plate over plate screw place # 1 lower plate over plate screw place # 2 , Back of hammer spur will be sticking out keeping you from completely replacing name plate to plate screw # 2 . FIRMLY HOLDING AT PLATE SCREW POSITION # 1 GENTLY PULL TRIGGER BACK AS YOU PRESS NAME PLATE TOGETHER WITH THE REST OF THE PISTOL . BE CAREFUL BLUE TRIGGER SPRING CAN COME OFF OF METAL PIN AND HIT YOUR FINGER IF PLATE IS NOT FIRMLY KEPT AGAINST PISTOL . When name plate is up against pistol in both plate screw # 1 and # 2 postions screw in plate screw # 1 . Now open cap loading door. With a small set of needle nose pliers pull top of red hammer spring into hammer spring holder on hammer . Now insert plate screw # 2 . Now with a flat head screwdriver push bottom part of red hammer spring and hook it over hammer spring metal pin . then test by squeezing trigger and replace grips . YOU CAN CALL US . 817-444-4320 or email us [email protected]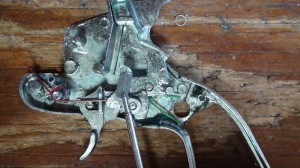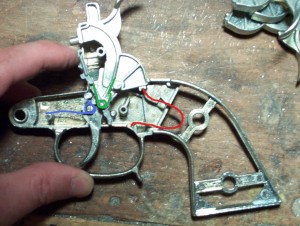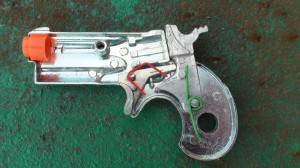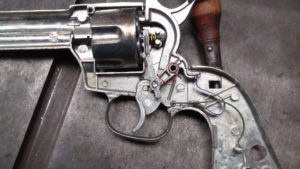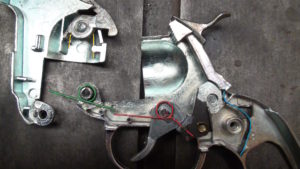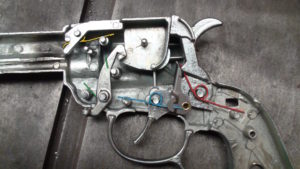 How to Assemble a Bronco 44 Toy Cap Gun Pistol USA made video.