Wild West Toys has every kind of toy gun caps manufactured! Including some very vintage and collectable caps.
SAFETY INSTRUCTIONS, WARNING
Do not fire closer than 1 foot to the ear and body .
Do not fire indoors.
Caps should be used only under adult supervision.
Each cap contains less then 0.20 grains of powder.
Do not fire near eyes or ears.
Do not carry caps loose in pocket.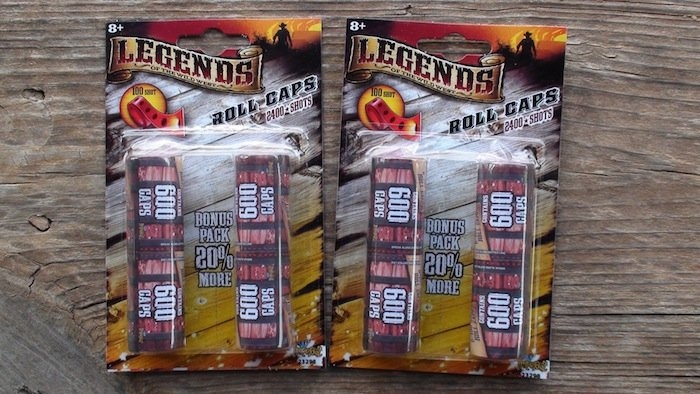 Toy Cap Guns Caps #C 100 (THESE POP GREAT!!!!!!!) Two packs of 100 SHOT ROLLS. PAPER ROLL CAPS $7.99. THATS 4800 SHOTS! – MADE IN GERMANY . These are Imperial Toy Legends of the Wild West paper roll caps.
These top of the line caps are extra load. These caps can also be used with any cap gun (old or new) that use ROLL CAPS! Be careful, they are extra loud and may shoot sparks! NOTE:
These work in all vintage and new 50 shot paper roll cap guns but you may need to tighten the roll slightly to put these in some cap pistols designed for 50 shot paper roll caps.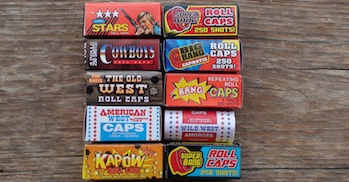 Collectors mixed Brands cap gun 50 SHOT PAPER ROLL CAPS #C 100 2  10 boxes of 50 SHOT PAPER ROLL CAPS $14.95 For 2500 SHOTS – MADE IN Germany, China and Taiwan. OVER THE YEARS WE HAVE STOCKED MANY DIFFERENT BRANDS AND TYPES OF PAPER ROLL CAPS . HERE IS A MIXED SET OF 2500 SHOTS IN COLORFUL BOXES . MANY IF NOT ALL OFF THESE ARE DISCONTINUED. WHEN THE STOCK WE HAVE AT THIS TIME IS GONE WE WILL NOT BE ABLE TO GET ANY MORE OF THESE.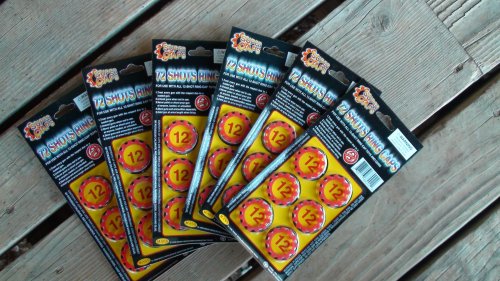 Toy Cap Guns Caps #C1 – SIX CARDS OF 12 SHOT RING CAPS $7.95  for 432 SHOTS – MADE IN CHINA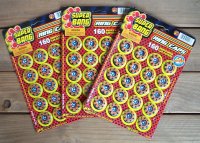 Toy Cap Guns Caps #C32 – Three packs of 8 SHOT PLASTIC RING CAPS 480 SHOTS for $7.47 – MADE IN China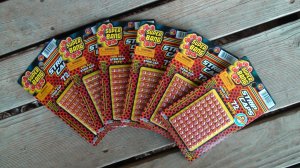 Toy Cap Guns Caps #C4S – Six cards of SINGLE SHOT PLASTIC CAPS $6.99 ……. For 432 SHOTS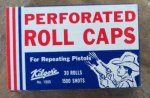 Toy Cap Guns Caps #C 7 – VINTAGE KILGORE PERFORATED ROLL CAPS for collectors  $19.95 PER BOX OF 1500 SHOTS Made in the U.S.A. These are what you have to have for your Mattel Fanner 50 or your Johnny Yuma Scattergun.